IT Support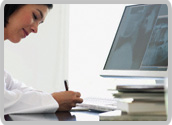 CIMplify's technical support is available 24/7/365 to help you make the most effective and efficient use of your information technology. Services include:


* User Administration
* Virus Protection
* Back-up/Recovery
* 24 Hour Help Desk
* Reporting

* Security Administration
* Upgrades/Testing
* Network Management
* Server/Vendor Management
* Special Projects

Administrative Services
A Legacy of Medical Practice Successes A physician-owned company, CIMplify has worked with specialty medical practices throughout the country since 1997. Early on, it was recognized as one of the largest national consulting firms serving specialty medical practices. It was during this growth that the importance of a coherent IT strategy became apparent, as did the need to provide 24/7 technical support.
learn more
Stay Up to Date with CIMplify in Our News Section!

Find out current news, helpful information, business partners and useful links.

read more