Managed Care Contract Performance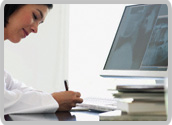 A key to practice profitability is making sure MCOs live up to the terms of their contracts. CIMplify is very experienced in leveling the playing field between the payor to the practice in order to remedy past or present abuses. We are the physician's advocate.
* CIMplify's practice management system enables medical practices to track and monitor payments against contracted payor rates.
* Information is summarized in reports that demonstrate what is expected to be collected and what is actually collected.
* Quickly and easily identify shortfalls in payments, providing practices with the information to recover monies more quickly and reduce adjustments to medical services.
Administrative Services
A Legacy of Medical Practice Successes A physician-owned company, CIMplify has worked with specialty medical practices throughout the country since 1997. Early on, it was recognized as one of the largest national consulting firms serving specialty medical practices. It was during this growth that the importance of a coherent IT strategy became apparent, as did the need to provide 24/7 technical support.
learn more
Stay Up to Date with CIMplify in Our News Section!

Find out current news, helpful information, business partners and useful links.

read more