Global Healthport: Your Virtual Office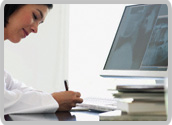 Global Healthport can perform many front office functions, streamlining your check-in and registration process—and providing your patients with a valuable benefit: a universal health record. Global Healthport means a stronger bottom-line for you; a quicker, more accurate method of keeping records; and—most importantly—greater patient confidence.
Scheduled patients are called to confirm the appointment, update billing and demographic information and take an abbreviated medical history.
* Patients arrive ready to be seen—greatly increasing their overall satisfaction.
* Establishes an Electronic Health Records that can be accessed from the physician's office or home computer.
* Dictate examination notes via phone for transcription to the Electronic Health Records.
* Patients are assured that a complete and accurate medical record will accompany them to any specialist, reducing the possibility of misdiagnosis.
Administrative Services
A Legacy of Medical Practice Successes A physician-owned company, CIMplify has worked with specialty medical practices throughout the country since 1997. Early on, it was recognized as one of the largest national consulting firms serving specialty medical practices. It was during this growth that the importance of a coherent IT strategy became apparent, as did the need to provide 24/7 technical support.
learn more
Stay Up to Date with CIMplify in Our News Section!

Find out current news, helpful information, business partners and useful links.

read more