Custom Reporting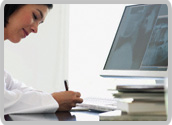 Now you can receive information in the format most useful for you. Custom reporting puts you in the driver's seat and your informational needs first and foremost.

* In addition to the standard practice management reports offered by the typical system, CIMplify's operations and IT experts have developed a unique portfolio of reports that help physicians and administrators evaluate the patient population.
* For example, Payor Activity Reports display the number of patients in a plan, as well as the types of services and gross charges generated—information important to analyzing potential fee schedules and deciding what types of insurance discounts your practice can afford.

A Legacy of Medical Practice Successes A physician-owned company, CIMplify has worked with specialty medical practices throughout the country since 1997. Early on, it was recognized as one of the largest national consulting firms serving specialty medical practices. It was during this growth that the importance of a coherent IT strategy became apparent, as did the need to provide 24/7 technical support.
learn more
Stay Up to Date with CIMplify in Our News Section!

Stay up to date with medical needs on CIMplify's news page. Check out the stories that have helped our company and that could help you with future medical questions or needs. We reguraly update our news section to keep you as up to date as we are.

read more