Electronic Health Records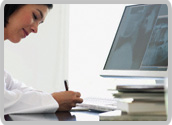 CIMplify's Electronic Health Records solution is a user-friendly, Windows-based toolset that offers any practice an efficient, secure and electronic alternative to store, retrieve and manage patient medical records. Because it is integrated, not just interfaced, with the Practice Management solution, all data is complete and consistent—redundant data entry and duplicated information are eliminated.


Electronic Health Records features include, but are not limited to:
* Easy entry/retrieval of many different types of clinical data, including patient medications, allergies, problems, procedures, immunizations, vital signs, etc.
* Scanning/indexing of paper documents for inclusion in the patient record.
* Prescription writer that not only produces legible, accurate scripts, but also screens for several drug therapy risks such as drug-drug and drug-allergy interactions.
* Pen-driven chart note creation using templates customized for each practice, provider and/or encounter type.
* Orders management features enable entry of and tracking of both orders and results.
* Messaging/workflow features include electronic review and signature of relevant clinical documents as determined by the practice.
* Customizable and flexible organization of the chart, including the ability to summarize clinical items on a single view for trending purposes.
* Compatible with several wireless device solutions to maximize portability.

Demonstrated benefits include:
* Improved patient care: Ready access to complete and legible clinical data, whether in the office or at home, enables providers to focus on patient care.
* Increased efficiency: Because information is available when and where it is needed, administration is streamlined and made more efficient. Whether needing a patient's current medications to answer a patient's phone call or needing a copy of a chart note to file with a claim, many office functions are enhanced.
* Enhanced security: Because there are many more options available to control and audit access, electronic records can be far more secure than paper records.
* Enhanced revenue: Improved documentation, coding assistance, timely access to information and integration help the practice to receive the maximum reimbursement for services provided.
* Reduced overhead: Features enable a practice to reduce or even eliminate many overhead expenses, such as record storage, transcription, etc.
A Legacy of Medical Practice Successes A physician-owned company, CIMplify has worked with specialty medical practices throughout the country since 1997. Early on, it was recognized as one of the largest national consulting firms serving specialty medical practices. It was during this growth that the importance of a coherent IT strategy became apparent, as did the need to provide 24/7 technical support.
learn more
Stay Up to Date with CIMplify in Our News Section!

Stay up to date with medical needs on CIMplify's news page. Check out the stories that have helped our company and that could help you with future medical questions or needs. We reguraly update our news section to keep you as up to date as we are.

read more